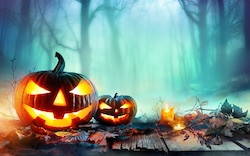 We have 5 great stories send in by some friends of the podcast and of course we have some rad tunes for you as well.
The Stories you'll hear are: A Healthy Smile (Written and read by Steph Rae), A Cup of Tea (Sent in by Anthony England and read by Kalen Capson), Ghost Fog on Buddha's Birthday ( Sent in by Erin Stewart), The Terrible Old Man (By H.P. Lovecraft and read by Kalen Capson), A Sunday Stroll (Written and Read by Steph Rae)
The Tunes you'll hear: Cave Dweller - Dead Drop, Elevate the Virus - Ramshakle, Rifium - Dire Rotsequences, Surface Wounds - Exposure Therapy
A big thanks to those who sent in their stories! Also a big thanks to the fine folks at Obscurity for the shout out! you can find them all over the net: Facebook, instagram or by visiting them at their location on 88 Germain St., Saint John, NB
Also thanks to Frank James and Adrian the Intern. Find us wherever you get your podcasts and follow us on Facebook and Instagram 
Background tracks for the stories provided by Darren Curtis and Ghost Stories Incorporated.